Legend has it amongst slightly dubious positive psychology research that marriage makes you lastingly happier and has the greatest affect on moderately unhappier men. Ever the one to put these findings to the test I gladly yield myself to scrutiny – but give it a few years before you check up on me. This post also serves as an explanation for my absence over the last few weeks.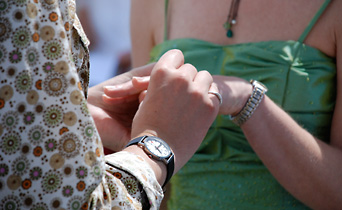 Three days on the coast of Cornwall gave us an opportunity to spend time with our guests, camping at our own exclusive site. We had a beach barbecue, a cliff-top wedding ceremony at Dodman Point and an evening feast in a barn. The flowers came from the hedgerows but the real magic came from our friends and a shared spirit close to nature – which feels to me like the very place that the Great Spirit hangs out rather than the local church.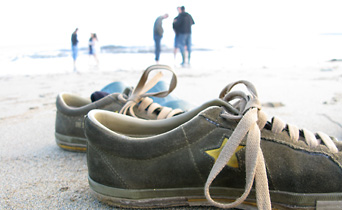 Shoes on the beach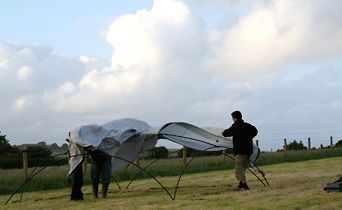 Putting up a Coleman Event Shelter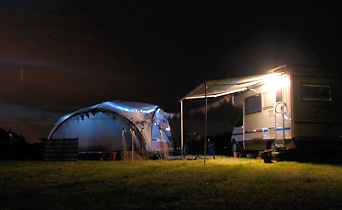 The campsite at night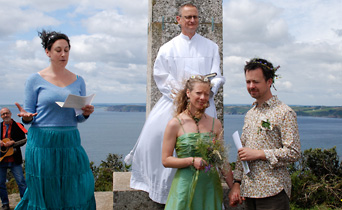 Jude Simpson reading the poem that she had written to begin the ceremony:
Welcome to this globe-roofed church, sea-wide, steeple-high, Welcome, from your cramped tents (or spacious B&Bs!) to this marquee of sky. The bell-peals here are from buttercup petals, the organ is powered by waves, the stained-glass window is sunlit, cloud-patterned and cut with green grass blades.
So make yourself at home. Take your place as part of creation. Breathe in and let summer's fragrance-flowered breeze dance over your skin. Admire the colour-scheme, (very this season!), those green and golden tones! Apply some optimistic sunscreen and please, turn off your mobile phone!
Because we gathered here are the only network that you need todaySo welcome to the part that you – and only you – can play in this unfolding drama. We, the supporting cast, are come to share in the joy of a man and woman who have found and chosen love.
This is not love from a potion, sprinkled by fairies, blind or drugged. This is not midsummer madness or daydream, this love is not rubbed from sleepy eyelids. This is love awake, aware, aflame, solid as jewels, as seeing as sunlight, true and real and sane.
This is not love from a playwright's pen, but from the author of sea, sky and land whose joy blows through the tree-leaves laughing, whose timelessness gritted the sand, whose fingers shape tiny violets, and chisel the rock-face cliffs, whose love is as tender as scudding clouds, and fierce as Atlantic rips.
This love is what you have come to bless - to add your voice to its joy. So bless with your laughter and your prayers, with your silence and your noise. Bless with your singing and dancing. Bless with your presence, attention and thought. Bless with today's celebrations. Bless with your lifelong support.
© 2008 Jude Simpson.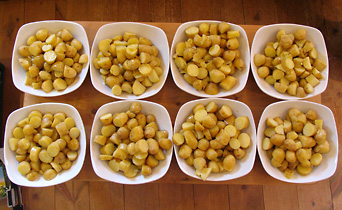 And the food being prepared by our friends for the feast.
And you can see a post about the cake at my lovely wife's blog here.
Your comments: