Venue
Recent courses have run at the Pierian Centre, 27 Portland Square, Bristol, BS2 8SA.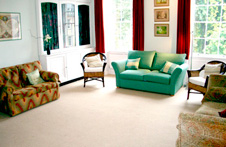 There is parking on the square which is just off the end of the M32 in the centre of Bristol.
Results
Happiness For Life is now in its third year running in Bristol and there is growing evidence about how you can get the best from it.
The course particularly suits adult learning styles in that it is experiential but the final results do depend on how much time you find for the exercises between weeks.
Overall the average rise in happiness (swb) is a staggering 14% which is equivalent to the happiness gained from a large windfall.
More about Happiness For Life
The world needs people who have found life and are living it to the full. This 8 week course helps you discover your own path to more happiness and meaning drawing on ancient wisdom and up to the minute research.
We are better off, in many ways, than we were 50 years ago but we're far less happy. What's going wrong? Positive psychology research has shown that happiness can be raised and this course explores what steps you can take to raise yours – and more.
Happy are those who dream dreams and are ready to pay the price to make them come true – Leon Joseph Suenens.
Experiential
The eight weeks are full of practical ideas and exercises. You will get to know your fellow group members and learn as much by helping each other find the right level of challenge as you will by making time to prioritise the steps you need to take to reach your own aims.
I don't sing because I'm happy. I am happy because I sing – William James.
Holistic
Subjects include our perceptions of what makes us happy, what we can do to enhance pleasure. Also: how to be more mindful and what happens when we embrace the question of meaning body, mind and spirit. You might find answers in surprising places.
Finding and living in alignment with your inner purpose is the foundation for fulfilling your outer purpose – Eckhart Tolle.
Facilitation
This course is led by Bruce Stanley; a skilled positive psychology coach and experiential educator. Working one-on-one and with groups he has developed an expertise with the subject of happiness, purpose and meaning. He likes walking, honey and custard yoghurt and Iona.
Stanley was funny, wise, challenging and practical about taking steps to change life. It was a triumph – Church Times.
Hosting or Joining
If you'd like to host this course in your venue, business or organisation, or if you'd like to join the next course local to you use the form below to let me know.
From a Participant
I feel privileged to be a member of the course. It could have been superficial and light-weight, instead it has proven to be substantial, thoroughly researched and challenging. Bruce is passionate about the subject and delivers the course with compassion and humour. The exercises have the potential to create not just quick fixes for fun, but real long term happiness. I am really disappointed that the course is coming to an end, but am hopeful of joining ongoing monthly follow up sessions with members of the course to keep me on track. Julian.